Human or other animal: Dog/human
Sport Team: Bombers (Unoffical), Blue/Green
Appearence: An anthro lab retriever with black fur.
Episodes focusing on him will have black title cards.
Other info: A (Usually) Happy lab that has a powerful kick and makes a great goalie. overall a good dog. Also really good with Aeromechanics. 
A picture (Optional):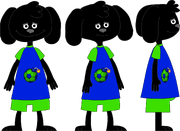 Ad blocker interference detected!
Wikia is a free-to-use site that makes money from advertising. We have a modified experience for viewers using ad blockers

Wikia is not accessible if you've made further modifications. Remove the custom ad blocker rule(s) and the page will load as expected.