Human or other animal: Human
Wears: Orange Horizontal striped shirt, and a blue jean skirt
Appearance: Vanessa is shown to have a body just like Annie Frazier, but with hispanic skin, and long black wavy hair with a hairband. She 1st (but not only) appears in the outtakes.
Note, Vanessa is best friends with Angela and Vanessa's mouth is blue with a dark blue toungue because her favorite food is blueberries.
Her last name is NEVER mentioned until she does her speech.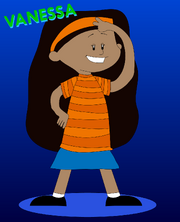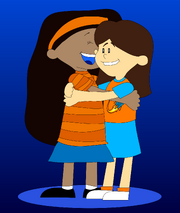 Ad blocker interference detected!
Wikia is a free-to-use site that makes money from advertising. We have a modified experience for viewers using ad blockers

Wikia is not accessible if you've made further modifications. Remove the custom ad blocker rule(s) and the page will load as expected.